Install SonicWALL MobileConnect from the App Store on your Mac. You will need internet access to download the app. The app will install into your Applications folder.
You will need to have your Apple ID to log into the App Store. If you've forgotten your password go to http://iforgot.apple.com and follow the directions to reset your password.
Launch SonicWALL Mobile Connect. Click on the "Add connection..." drop down box. If SonicWALL Mobile Connect has been set up Choose the gear icon to the right of Connection dropdown.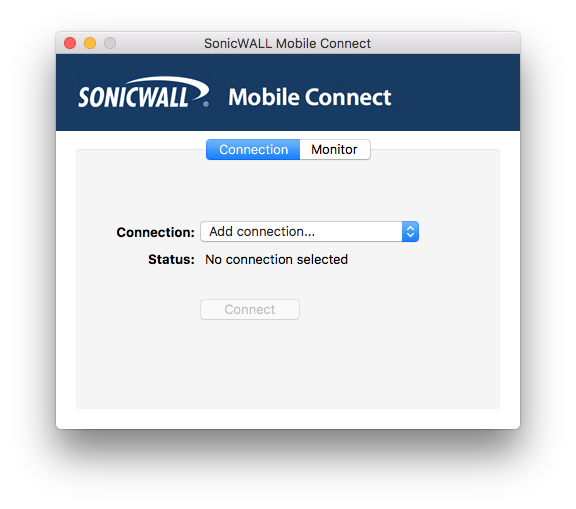 While the name can be anything you would like, we recommend something descriptive like the name of Clinic you're connecting to.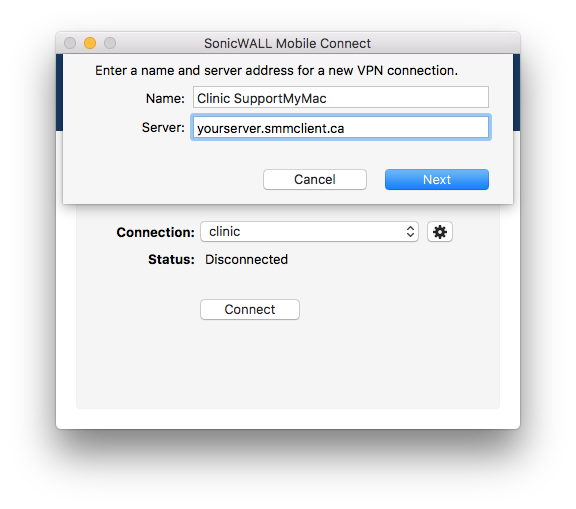 The server address is required to be exactly as provided for your clinic (Ex. yourserver.smmclient.ca). Click next.
If you receive the message "Mobile Connect can't verify the identity of yourserver.smmclient.ca". Would you like to continue anyway?" click the Show Certificate button.
Choose the trust disclosure triangle and in the "When using this certificate:" dropdown, select "Always Trust". Click continue. You will be prompted for your computer's username and password when changing this setting. Click next.
Enter your VPN Username and Password in the remaining fields. If you were provided with a Domain, you can enter it here as well. Click Save.
To test your settings, click Connect. The status should say Connected. Congratulations! You have set up SonicWALL MobileConnect and are ready to launch your EMR, PS Suite.
Not Connected? Make sure you're connected to the internet. Make sure you're not attempting to connect from the same network the SonicWALL is on (i.e., on the clinic's network). VPN is designed to create a connection to the clinic network that is as secure as if you were using a computer in the clinic. Not in the office? Use VPN.